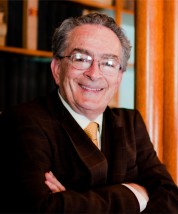 John Davis is a non-partisan political analyst, writer and public speaker. His 40-year career includes work at all levels of politics, from legislative and gubernatorial to congressional and presidential.
His national experience includes his work with business leaders in over half of the states in the country. From Maine to Montana; from Maryland to New Mexico, he has helped organize dozens of business political research organizations and conducted over 1,000 briefings on political trends.
From 1986 – 2008, Davis served as President of NCFREE, where he founded the Almanac of North Carolina Politics and was recognized as one of the state's leading authorities on evaluating candidates and predicting the outcome of races. In the nearly-1,500 North Carolina political races since Election Year 2000, Davis has a forecast accuracy of 96%.
Since 2008, Davis has written the bi-monthly John Davis Political Report and worked as a private political investment consultant. He is frequently quoted in the news throughout the state and nation. In 2012, he was honored as one of North Carolina's "Top 10 Political Influencers" by Campaigns & Elections magazine, a national publication for political professionals.
A native of Graceville, Florida, Davis is a graduate of William Carey University in Hattiesburg, Mississippi.  He and his wife, Kathy, live in Raleigh.  They have five grown children.