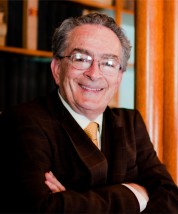 John Davis is a non-partisan political analyst, writer and public speaker. His 40-year career includes work at all levels of politics, from legislative and gubernatorial to congressional and presidential.
His national experience includes his work with business leaders in over half of the states in the country. From Maine to Montana; from Maryland to New Mexico, he has helped organize dozens of business political research organizations and conducted over 1,000 briefings on political trends.
From 1986 – 2008, Davis served as President of NCFREE, where he founded the Almanac of North Carolina Politics and was recognized as one of the state's leading authorities on evaluating candidates and predicting the outcome of races. In the nearly-1,500 North Carolina political races since Election Year 2000, Davis has a forecast accuracy of 96%.
Since 2008, Davis has written the bi-monthly John Davis Political Report and worked as a private political investment consultant. He is frequently quoted in the news throughout the state and nation. In 2012, he was honored as one of North Carolina's "Top 10 Political Influencers" by Campaigns & Elections magazine, a national publication for political professionals.
A native of Graceville, Florida, Davis is a graduate of William Carey University in Hattiesburg, Mississippi.  He and his wife, Kathy, live in Raleigh.  They have five grown children.
Select 2015 News Interviews
"Everybody in Washington, D.C. – 435 members of the House, 100 senators and our president, they all believe they are principled people. We don't need any more principled people in Washington, we need principled compromise. The whole problem is you have principled conservatives and principled liberals in separate corners of the room, refusing to talk to anybody." John Davis
John Davis, an unaffiliated political analyst, told The Hill that the state Democratic Party is still reeling from Hagan's loss, which came alongside strong Republican gains at the state level.

"Everyone is a little gun-shy right now about the ability of North Carolina Democrats to win the big race," he said.
John Davis, a longtime analyst of state politics, called Cope's resignation "a great, great opportunity for state employees."

"He operated with an abrasive, in-your-face style that antagonized legislators," said Davis, who ticked off a long, bipartisan list of people Cope attacked: Sen. Marc Basnight, former Gov. Mike Easley, Sen. Howard Lee, Sen. Ralph Hise, and many more.
"The biggest danger for Republicans is that they think they have a mandate to do all things conservative when they are still governing in a state that is the most perfectly balanced state in America," Davis said. "If they are smart, they will play it astutely and be incremental in their conservative accomplishments."
 Testimonials
"I am frequently asked to identify the brightest political mind in North Carolina.  Even before his amazingly accurate and perceptive views on the historic 2010 election, I always responded, "JOHN DAVIS."  Now I doubt anyone will have to ask me because John's political forecasting, along with his rationale, received widespread attention every day during the final months of the campaign."  Phil Kirk, President/CEO Emeritus, North Carolina Chamber; Chairman Emeritus, State Board of Education; Director, Brady Energy Services

"No axe to grind - just straight up, fact based, analysis."  Richard H. Moore, Treasurer, North Carolina, 2000 – 2008

"John Davis has one of the best political minds in North Carolina. He is practically a walking encyclopedia on legislative politics. I have long relied on his wisdom and insights in my own reporting.  If you want to keep up with legislature, particularly now that the Republicans are in control, John Davis is the go-to-guy."  Rob Christensen, chief political reporter, The News and Observer and author of The Paradox of Tar Heel Politics
During the 2008 election year, Davis was an early voice arguing that North Carolina was one of the nation's newest presidential battleground states, a state more akin to the nation than to the Old South ... a state he said would likely to choose Barack Obama over John McCain for president.
"Not only does John Davis tell you what is going to happen with amazing accuracy, but also why it is going to happen.  His critical analysis enables businesses to have a true impact in electing business friendly candidates by targeting contributions." Bill Daughtridge, President, Daughtridge Gas & Oil Co., Rocky Mount
Again in 2010, Davis was the earliest voice in the state arguing that the problems of the Bush Administration that brought down Republicans in 2008, like the economy, unemployment, trillion-dollar bailouts and out-of-control government spending, were the same problems that were weakening the Obama Administration and bringing down Democrats.
"John Davis made the bold calls in 2010--he was right and he was early.  His assessment was flawless.  He was nailing 3 point shots from mid-court, one after another, hitting nothing but net!!"  Bill Weatherspoon, NC Petroleum Society, Raleigh
Davis is a highly sought after state and national public speaker.  He is quoted regularly by leading political reporters, and is widely considered an authority on North Carolina's state legislative and congressional districts.  Davis' testimony in the Stephenson reapportionment case in 2002 was cited by the NC Supreme Court, and was deemed crucial in establishing that the right of North Carolina citizens to choose their legislators was being several curtailed by the extremely partisan mapping of legislative districts.
Here is an excerpt from the opinion written by NC Supreme Court Chief Justice I. Beverly Lake:
"In the trial court below, plaintiffs presented a forecast of their evidence on the issue of protecting the citizenry's equal right to vote and ensuring the continued vitality of the State's democratic processes. In this regard, plaintiffs submitted deposition testimony of John N. Davis, Executive Director of NCFREE, a nonpartisan organization within this State, who has been forecasting election results in North Carolina since 1992. In 2000, Davis correctly projected 193 out of 200 North Carolina elections. According to Davis, the number of Senate seats competitive for both major political parties has dropped from 14 out of 50 under the 1992 Senate Plan to only 6 out of 50 under the 2001 Senate Plan. Similarly, Davis asserts that the number of competitive House seats has dropped from 32 out of 120 under the 1992 House Plan to only 14 out of 120 under the 2001 House Plan."
Davis' 30-year political career includes 23 years as President of NCFREE, a non-partisan, political research organization, where he served as Editor of the Almanac of North Carolina Politics. He has helped business leaders in over half of the states in the U.S. create political research organizations, and is co-founder of the USA Roundtable, a national association of state business political professionals organized in 1986.
Davis is president of John Davis Consulting, where he writes a weekly political report called the John Davis Political Report.  In addition to his consulting and weekly reports, Davis is working on a book titled, The Fall of the Magnolia Curtain, the breakthrough story of the first African Americans, women and Republicans to win statewide campaigns in North Carolina since the end of the post-Civil War Reconstruction era in 1870.
A native of Graceville, Florida, Davis is a graduate of William Carey University in Hattiesburg, Mississippi.  He and his wife, Kathy, live in Raleigh.  They have five grown children.
TESTIMONIALS
"As a former member of the North Carolina House, Senate and Executive Branch of North Carolina government, I would not want to be without the John Davis Political Report - a must for those that love the political arena and our state!"  Glenn Jernigan, Glenn Jernigan & Associates
"I am frequently asked to identify the brightest political mind in North Carolina.  Even before his amazingly accurate and perceptive views on the historic 2010 election, I always responded, "JOHN DAVIS."  Now I doubt anyone will have to ask me because John's political forecasting, along with his rationale, received widespread attention every day during the final months of the campaign."  Phil Kirk, President/CEO Emeritus, North Carolina Chamber; Chairman Emeritus, State Board of Education; Director, Brady Energy Services
"John Davis has one of the best political minds in North Carolina. He is practically a walking encyclopedia on legislative politics. I have long relied on his wisdom and insights in my own reporting.  If you want to keep up with legislature, particularly now that the Republicans are in control, John Davis is the go-to-guy."  Rob Christensen, chief political reporter, The News and Observer and author of The Paradox of Tar Heel Politics
"No axe to grind - just straight up, fact-based, analysis."  Richard H. Moore, Treasurer, North Carolina, 2000 – 2008
"John Davis was right, he was early, and he made the bold calls publicly with political evidence. There was no need for a crystal ball; he simply used history, common sense and solid political science.  He called the legislative 'flip' to GOP control earlier than any other analyst."  Bill Weatherspoon, American Petroleum Institute, Raleigh, North Carolina
"I have followed John Davis' political forecasting for a number of years. He did a good job for 23 years at NCFREE educating the legislators of the state on business issues and the effects of legislation on the business community. I have gotten good benefit from his new venture. The proof is in the pudding when you see his results for the most recent election cycle. I run a small textile manufacturing business (100+ people) and use his insight to stay up to date on state politics. The voice reports allow me to double task and expose employees to the issues of the day. Keep up the good work."  Jim Bryan, Fairystone Fabrics, Burlington
"John, I just wanted to tell you that I got HIGH PRAISE for having you come and speak to the Board of Directors of the Agribusiness Council. Everyone has said what a very informative (and entertaining) speaker you were - that you made dry statistics VERY interesting.  I will definitely be calling on you again in the future."  Erica Peterson, NC Agribusiness Council
"Every business is impacted by what the legislature does, yet very few have the time to devote to following it closely or knowing the players.  For years, John Davis has proven he understands the legislature and those who run for it.  His newsletter [John Davis Political Report] keeps us informed of what is happening and alerts us to when we need to pay attention.  It is well worth the money."  Tom Oxholm, Wake Stone Corp, Knightdale
"John Davis was amazing. He nailed the mid-term elections --he was accurate and early. Bill Weatherspoon, American Petroleum Institute, Raleigh, North Carolina
"Not only does John Davis tell you what is going to happen with amazing accuracy, but also why it is going to happen.  His critical analysis enables businesses to have a true impact in electing business friendly candidates by targeting contributions." Bill Daughtridge, President, Daughtridge Gas & Oil Co., Rocky Mount
LINKS TO 2014 Election Year Interviews:
LINKS TO 2012 National Convention Interviews: