"There's no real financial infrastructure under the [state] Republican Party, and I reckon building one will take a long time," he said. And doing so will be "sort of like straightening out a train wreck." — Carter Wrenn, NC Republican Consultant This is a very fragile time for North Carolina House Democrats and Republicans.  They all
[More…]
"There's no real financial infrastructure under the [state] Republican Party, and I reckon building one will take a long time," he said. And doing so will be "sort of like straightening out a train wreck." -- Carter Wrenn, NC Republican Consultant
This is a very fragile time for North Carolina House Democrats and Republicans.  They all know that to some extent their political fortunes this year are tied to the results of President Obama's reform agenda, beginning with healthcare legislation.  If he prevails, the value of his stock as a reform leader will rebound and the tarnished image of the Democratic Party will be polished up a bit.  If he fails, all bets are off.  Republicans will have a huge surge in momentum which will yield more investors making larger investments, an event that would be devastating for Democrats who have always been able to count on a financial advantage to win the close races.
I am persuaded that Obama is smart enough to come out of the healthcare reform debate with a win.  He has to.  His entire agenda is at stake.  He will make whatever sacrifices are necessary to declare a victory, "… a victory for the uninsured and the underinsured who can't afford care."
The greater likelihood is that by the time the May primaries roll around, the healthcare debate will be old news.  Obama will be directing his energies to the other problematic issues for Democrats by then: the economy, jobs, and big government spending.  There will be an uptick in the job approval numbers for the President and the Congress, and most incumbents will win their primaries.  There have only been two states with primaries thus far:  Illinois and Texas.  All incumbent members of congress seeking reelection won their races.
But, on the other hand, what about the impact of scandal and corruption?  Surely that two-headed monster will ensure Republican momentum.    Look at the embarrassing rash of allegations Democrats have to contend with:  New Yorkers Congressman Eric Massa, a sexual pervert; Congressman Charles Rangel, the once-powerful chair of the House Ways and Means Committee, now facing ethics charges; and Gov. David Paterson, whose resignation is being called for in light of allegations of criminal conduct.  Add North Carolinians like John Edwards, former Gov. Mike Easley and his legal counsel Ruffin Poole, and other Easley associates who may be indicted.  Will scandal and corruption matter?
I don't believe that scandal and corruption will make a nickels worth of difference in any race unless the incumbent is directly linked to the criminal activity or scandalous behavior.  That was true for Republicans in 2006 during the Jack Abramoff congressional corruption scandal in Washington, and was true the same year for Democrats during the Jim Black corruption scandal in Raleigh.  No one lost their race unless they were directly implicated.
Has Mighty Money Met its Match?
If Republicans can't count on momentum this fall, how will they counter the funding advantage that the Democratic "Nation" provides its candidates? Can they match the Democrats dollar for dollar this year? Not likely, according to an article in the Congressional Quarterly published today featuring seasoned North Carolina Republican consultant Carter Wrenn: "There's no real financial infrastructure under the [state] Republican Party, and I reckon building one will take a long time," he said. And doing so will be "sort of like straightening out a train wreck."2
Can Republicans running in state House races be competitive without momentum or money?  The answer is "Yes," because Republicans have discovered Facebook, YouTube, Twitter … the Internet, and it is spreading like wildfire.  Why do you need to spend a $100,000 on TV ads when you can post them free on YouTube or send them to 100,000 voters free via email?  Why would you spend tens of thousands of dollars on organizers when you can meet on the Internet, stay in touch, organize your local political war machine, raise money, register voters, and turn out your voters, all from the comfort of your own personal campaign headquarters … your home.
In a Charlotte Observer story headlined, Sense of frustration awakens activists,3 political writer Jim Morrill notes that web-linked groups are springing up all across the Charlotte region.  "What most share is frustration over what they see as an ever-expanding federal government and a belief that America has drifted from its founding principles," writes Morrill, "They're engaged and – like the voters who pushed Republican Scott Brown to victory in Massachusetts – energized."  The Internet gives Republicans an equal opportunity to participate in the political shouting match that Democrats always win because they can buy more ads.  Now ads are free.
Two years ago, an African-American named Barack Hussein Obama, whose father was born in Kenya, used the Internet to overcome the financial and infrastructural advantages of the Clinton camp and win the highest office in the land.  Look for Republicans to capture that spark of voter commitment this year and to keep it rekindled through web-based political activism.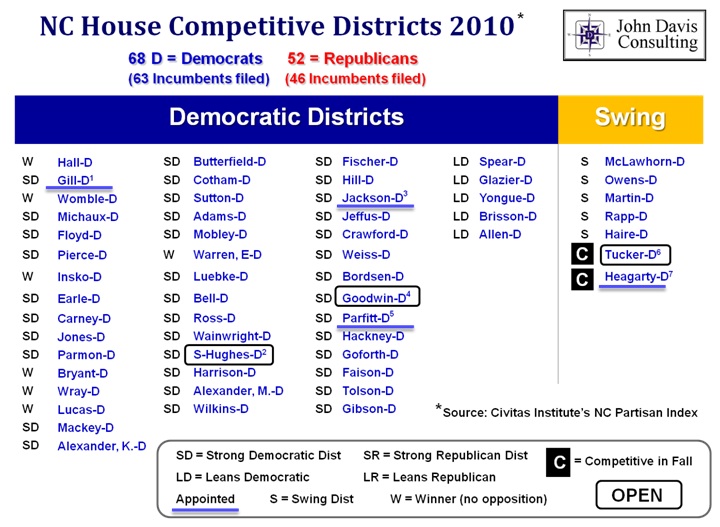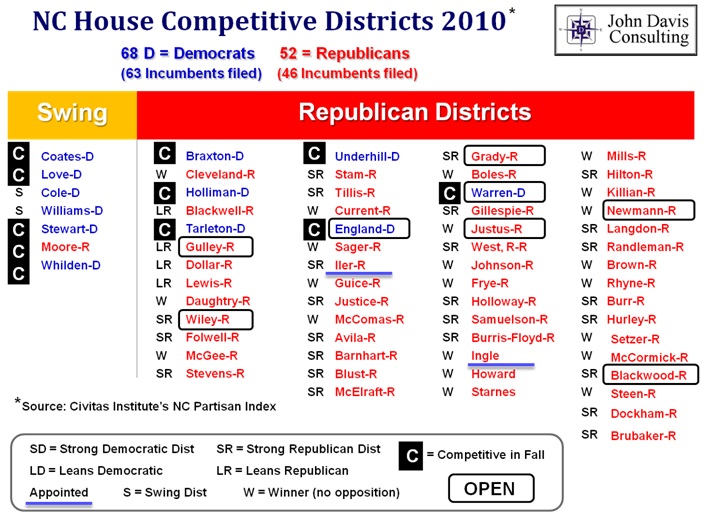 References
Congressional Quarterly, March 11, 2010; North Carolina: A Competition-Free Zone for House Races?
Congressional Quarterly, March 11, 2010; North Carolina: A Competition-Free Zone for House Races?
Charlotte Observer, Jan. 25, 2010, Sense of frustration awakens activists