North Carolina Congressional Forecasts; No Change since Exclusive Scoop July 1, 2011 The GOP will have at least a 9-4 majority following the November 6 General Election. John Davis, Editor, John Davis Political Report  Friday, October 12, 2012       Vol. V, No. 33           9:13 am  Exclusive Scoop in 2011 On Friday morning, July 1, 2011,
[More…]
North Carolina Congressional Forecasts; No Change since Exclusive Scoop July 1, 2011
The GOP will have at least a 9-4 majority following the November 6 General Election.

John Davis, Editor, John Davis Political Report
 Friday, October 12, 2012       Vol. V, No. 33           9:13 am
 Exclusive Scoop in 2011
On Friday morning, July 1, 2011, subscribers to the John Davis Political Report were the first to see the new congressional districts proposed by the legislative remappers.  The headline read, North Carolina's New Congressional Districts: Say Goodbye to Democrats Miller, Shuler and Kissell; McIntyre Fighting Chance.
A historic Republican advantage was in the making.  When the final maps were enacted into law on July 28, 2011, only 3 districts of 13 were safe for Democrats.  By the time the filing deadline rolled around on February 29, 2012, Congressmen Brad Miller (Wake County) and Heath Shuler (Haywood) conceded to the Republican advantages in their districts and announced that they would not seek reelection.
Two Democratic Congressmen, Mike McIntyre (Robeson) and Larry Kissell (Montgomery), decided to fight against the odds for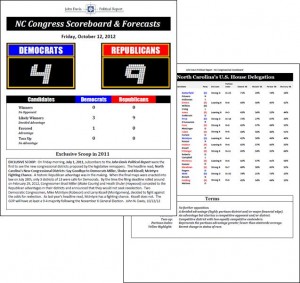 reelection.  As last year's headline read, McIntyre has a fighting chance.  Kissell does not.
Congressman McIntyre is a seasoned campaigner who can count his war chest by the millions of dollars; a classic Eastern North Carolina Blue Dog Democrat who has the endorsement of the National Rifle Association and over 50 Southeastern North Carolina mayors.  Former state Senator David Rouzer is a newcomer to big league politics, and may be out-muscled despite the favorable leaning of the district.
Larry Kissell's chances for reelection are slim-to-none.  The most loyal Democratic precincts in Mecklenburg County were carved out of this one-time Swing district held by Republican Robin Hayes (Cabarrus) for five terms.  It is now safe territory for GOP challenger Richard Hudson (Cabarrus).
Check out the complete list of North Carolina Congressional Districts here with a forecast of the likely winners.
Bottom line: The GOP will have at least a 9-4 majority following the November 6 General Election.
 - END -
Premium Annual Subscription is $245.  Subscribe online at www.johndavisconsulting.com/subscribe, or mail your check to John Davis Political Report, P.O. Box 30714, Raleigh, NC, 27622.  P.S.:  Need a speaker?  Let me know if you need a speaker or a moderator for a political panel.  Audiences are particularly interested in politics this year due to the nation's economic crisis and the many other uncertainties.  Inquire about availability here.  JND
---