North Carolina Senate Forecasts Show Veto Proof Republican Majority after November 6 Elections "Now, with great deference to the fundamentals for winning campaigns and the standards for political fairness established by the North Carolina Democratic Party, the GOP is setting itself on a sure course for a Republican majority in the Senate for many elections
[More…]
North Carolina Senate Forecasts Show Veto Proof Republican Majority after November 6 Elections
"Now, with great deference to the fundamentals for winning campaigns and the standards for political fairness established by the North Carolina Democratic Party, the GOP is setting itself on a sure course for a Republican majority in the Senate for many elections to come."  John N. Davis, Editor, John Davis Political Report

 Tuesday, September 25, 2012       Vol. V, No. 30      11:13 am
Click Here for John Davis Political Report 2012 NC Senate Forecasts
In 2012, Republicans will win the Senate majority because they have seized the decided advantage jealously guarded by Democrats since the 19th Century.  Click here to see the complete list of NC Senate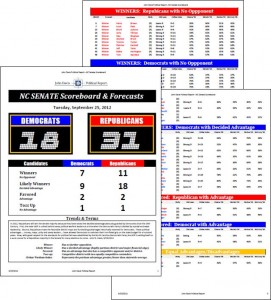 races with forecasts of the likely winners and favored candidates.
Key Conclusions:  First, the state GOP is united behind savvy political warfare leaders at a time when the Democratic Party is divided by scandal and weak leadership.  Second, Republicans have the favorable district maps and fundraising advantages historically reserved for Democrats.
These political advantages ... money, maps, unity and savvy leaders ... have allowed Democrats to maintain their iron-fisted grip on the state budget for a hundred years.  Now, with great deference to the fundamentals for winning campaigns and the standards for political fairness established by the North Carolina Democratic Party, the GOP is setting itself on a sure course for a Republican majority in the Senate for many elections to come.
Winner: Has no further opposition.  Democrats 7; Republicans 11.
Likely Winner: Has a decided advantage (highly partisan district and major financial edge).  Democrats 9; Republicans 18.
Favored: Has an advantage but also has a competitive opponent and/or district.  Democrats 2; Republicans 2.
Toss Up: Competitive district with two equally competitive contenders.  Democrats 1; Republicans 1.
Tomorrow, Wednesday, September 26, the John Davis Political Report will publish a forecast of all 120 NC House races.
 - END -
Premium Annual Subscription is $245.  Subscribe online at www.johndavisconsulting.com/subscribe, or mail your check to John Davis Political Report, P.O. Box 30714, Raleigh, NC, 27622.  P.S.:  Need a speaker?  Let me know if you need a speaker or a moderator for a political panel.  Audiences are particularly interested in politics this year due to the nation's economic crisis and the many other uncertainties.  Inquire about availability here.  JND
---